Events & Photo's
2016 Drew Estate Charity Dinner October 25 2016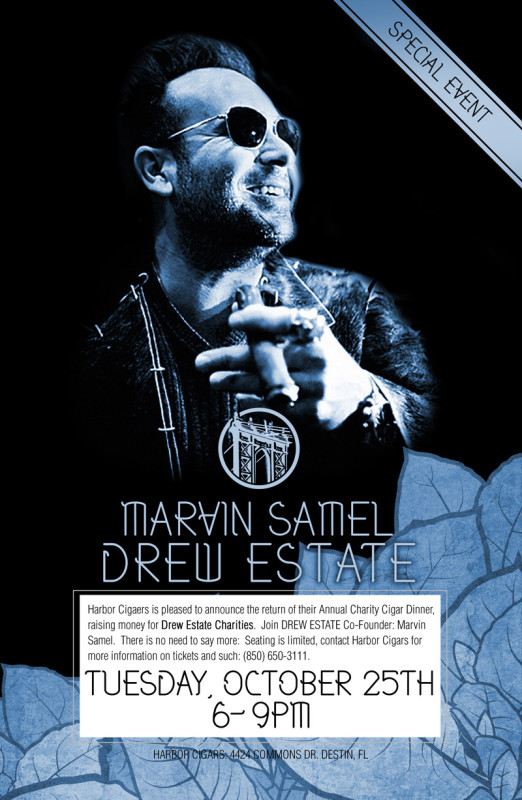 Studio Tobac World Tour April 2013
Arturo Fuente w/ Cynthia | November 2, 2011
Ashton Event | Septemberber 7, 2011
On Wednesday, September 7 Harbor Cigars and Ashton co-hosted our kickoff event of the new season.
Rex Snyder from Ashton Cigars returned to Harbor Cigars to highlight the new San Cristobal Elegancia cigar. This event was a "Taste of Excellence" event and although we highlighted the new Elegancia cigar we also offered a Cabinet No 6 or a La Aroma de Cuba EE to enjoy as we sampled Eagle Rare Bourbon and a delicious roast dinner.
Studio Tobac World Tour | March 30, 2011
On Wednesday, March 30th we celebrated the release of Cain Daytona. Harbor Cigars was honored to be included as a featured stop on the "Studio Tobac World Tour".
We had a great turnout with about 130 people joining us for an evening of Brats, Beer and a great new cigar.
Ashton Dinner | October 19, 2010
On Tuesday, October 19 Harbor Cigars and Ashton co-hosted our Fourth Annual Ashton Dinner. Attendees experienced a wonderful six course dinner paired with some of the finest cigars Ashton has to offer. The evening started with cocktails of Sparkling Wine, Hangar One Vodka, Bombay Sapphire Gin and a Pale Ale paired with an Ashton Maduro #30.
After the first two courses we served an Intermezzo featuring a lemon sorbet powered with French Chocolate served with a great Rum. We paired that with the rich flavor of a Mi Amor Magnifico. After a dinner of lightly blackened Grouper and Pork ribs, roasted potatoes and plantains we served a dark Chocolate cake along with a bold Red Zin as dessert. Next came the Woodford Reserve Bourbon and an Ashton VSG Eclipse.
Arturo Fuente | October 6, 2010
October's Cigar Tasting was a huge success with over 100 people in attendance. We want to thank Louis Marshall and the Fuente Family for their support in co-hosting this great event.
La Aroma de Cuba tasting | June 2 2010
Oliva Event May 26 2010
Altadis USA Event | May 5 2010
Brick House Event | March 3, 2010
La Flor Dominicana | February 3, 2010
Ashton Dinner | October 28, 2009
May 6, 2009